An interview with Pender Island artist Susan Taylor—by Justine Apostolopoulos
Like many people on the Gulf Islands, Susan Taylor came from the city in search of a quiet, simple place in which to create. "I had planned to stay for only a few months," she tells me. "That was in 1997; Pender Island became my home."
Two years after this transition, Susan and her partner Frank Ducote opened up The Blood Star Gallery and brought their love of art to the Pender Island community. The gallery is named for Susan's favourite intertidal creature, the seldom seen Pacific Blood Sea Star. Which is fitting, because Susan's art tends to focus on the seldom seen aspects of life. In close-up paintings of fruits, vegetables, sea shells, creatures, and microscopic life, Susan explores a realm of art inspired by the flora and fauna of the Salish Sea and beyond.
"My art has always been a close look at nature," she tells me, and this interest of hers is especially captured in the paintings she has done of marine plankton, two of which she has submitted to the Web of Life art project.
Plankton are small, often microscopic organisms found inhabiting bodies of marine and fresh water. They include members of multiple kingdoms and phyla, including diatoms, protozoans, small crustaceans, and the eggs and larval stages of other animals.
"In 2019, I read the following: every second breath we take is thanks to plankton. I was immediately captivated and needed to learn more. After some initial research, I discovered what an alternative universe this microscopic world truly is! The infinite variety of shapes and forms of these organisms is a virtual gold mine for me as an artist."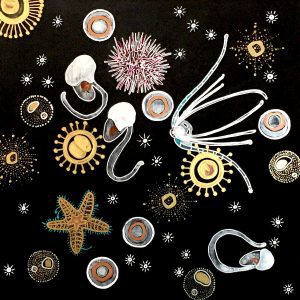 In her series The Importance of Plankton, Susan has depicted various plankton in acrylic paints on wood panels. Painted against a black background, the plankton are numerous and have a rather jewel-like quality to them, which wonderfully captures the magic of plankton's sheer variety of shapes and sizes. Not only are they an endless source of inspiration for Susan (in one of her painting's descriptions, Susan points out that there are estimated to be one million types of plankton in the world's oceans), she also has a very important reason for depicting these little organisms:
"So much of the focus of environmentalism on the Gulf Islands is about protecting the resident orcas, the salmon and now, even herring. The knowledge I now have of the importance of plankton as the base of the ocean's food chain has inspired me to contribute to the awareness of how integral it is to all life in the oceans and to humans as well."
Susan's art certainly draws attention to these overlooked, critical components of our Salish Sea ecosystems and we are very excited to have her work on board the Web of Life project! Because plankton include multiple groups of life, including plants and animals, her painting has assumed a place at the very heart of our interactive data visualization: representing life itself! 
Thank you Susan, for sharing your love of plankton with us.