Our second artist in the Web of Life series is Andrew Ferneyhough. Andrew's workshop will focus on illustrating and learning about various phyla of marine worms, and will take place on February 22nd, at the Yellowhouse Art Centre, from 1-4pm.
1. When and how did you become involved in art?
I've been drawing and creating for as far back as I can remember, but I think my big push into becoming "an artist" was probably when I was in Ontario, playing in bands in the early 2000's. I had been creating logos, promo designs and album covers for my own bands and branched off into doing work for others that we played with or knew in the scene. I also started selling prints of my drawings at shows, before branching off into painting and graphic design. A few years later I decided to attend the Ontario College of Art & Design, majoring in Drawing & Painting, with minors in Art History and Material Arts.
2. What mediums do you usually like to work in?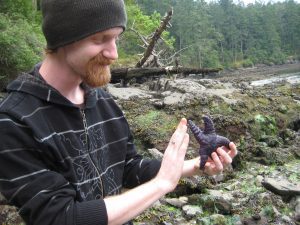 My paintings are all done in acrylics, which I often accent with markers and aerosols, and my drawings are often a combination of graphite, ballpoint pen and conte chalk. I sometimes like to throw in found objects like seashells, encyclopedia pages and other ephemera and I employ Adobe Photoshop both for graphic work and digital preliminaries of concepts.
3. As an artist, what do you draw inspiration from?
That's a pretty broad scope. My own experiences and interests often come in play through metaphor or reinterpretation. Some influences that I draw elements from when creating include wildlife, surrealism, Art Nouveau, science-fiction, the supernatural, history, music and wordplay.
4. Can you talk a bit about the EnVision Gallery?
EnVision Gallery was initially opened 20 years ago by a co-op of Mayne Island artists, who each promoted their own work through it. In the years since, it had been mostly run by Darrell Perfumo of West Coast Gnomes, who made contact with a plethora of other artists from around BC, ranging from pottery, jewellery, paintings, photography, woodwork, textiles and more. My partner Kat Ferneyhough and I both have extensive backgrounds in all manner of artistic mediums and purchased the gallery from Darrell 5 years ago when the demands of his own work started to really take precedent (every artist's dream). We continued with several of the artists who already had work featured there, have taken on 30 new artists since taking over, and are always keeping an eye out for new talent. We currently showcase the works of 75 BC artists, focusing mostly on Mayne and the Southern Gulf Islands. We enthusiastically took it upon ourselves to support artistic efforts within the community and have been involved in the Southern Gulf Islands Arts Council, the Mayne Island Fall Fair, the Chamber of Commerce and Festival Active Pass in different capacities to name a few. Two years ago, we started curating and hanging work at the Springwater Lodge, with rotating shows every two months, either focusing on 1-2 local artists at a time or themed group exhibitions, which have been received very positively on Mayne.
5. When did you come to the Gulf Islands?
I had been visiting Mayne for about 15 years before making the move out here. My partner's mother, Jen O'Shaughnessy had moved out several years prior and ran the Dragonfly Gallery Art Supplies store and we had come to visit several times and absolutely fell in love with it. I grew up in Southern Ontario and for a brief period, the United Arab Emirates, and had involved mostly in working screen-printing jobs, attending college, and playing in bands before making the move; still think it was the best decision.
6. What about the Gulf Islands has drawn you to staying here?
There is a wonderful, kind & welcoming community here and it's a fantastic place to be an artist. We don't have to ever go far to be out and about in nature and surrounded by beauty. Personally, I like the pace as well, it's fairly quiet and laid back and doesn't have the energy of living in a city. The island has been very accommodating and I've been able to skirt the line of making art that people here seem to appreciate while also being a little out there. Now that we have EnVision Gallery, I'm here for the long haul.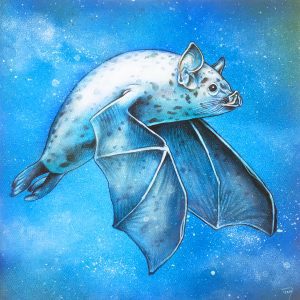 7. I am very interested by your surrealist art depicting animals. Can you talk a bit about those paintings and your ideas around those?
Surrealism has always been my favourite form of expression, as it takes something familiar and explores the possibilities of what it could be, either by concept, shape or a desire to draw on the bizarre. I've employed several works which involve animals whose heads have been replaced by human hands, underlying the connection our touch has had on the ecosystems we all rely on to survive. I'm fascinated by the breadth and diversity of animal life on the planet and find there's an endless well of new creatures and concepts to explore. While not all of my work dealing with surrealist takes on wildlife, it certainly is a theme I keep coming back to.
8. What about the workshop are you looking forward to?
I'm looking forward to meeting new artists and like minded people who appreciate natural beauty and form and want to spend some time exploring its intricacies. Even though the islands are fairly well-connected I still don't get over to our neighbours often enough and it's nice to have the opportunity to spend some time making art with others who are equally enthusiastic about it.